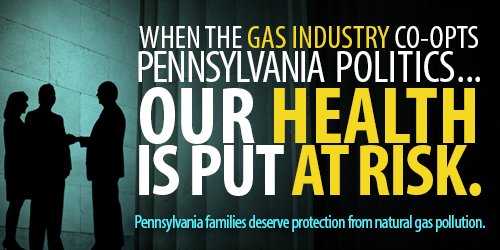 "Scientists Are Watching in Horror…" 
That was pulled straight from a headline in National Geographic this week  in response to record breaking levels of melting ice  in Antarctica and Greenland. It serves as more evidence that climate change is happening, fast. And it's not just impacting the polar regions of the planet. The impacts of global warming are being felt everywhere in the form of rising sea levels, devastating droughts, and horrific super storms. So why are Pennsylvania's legislators poised to vote for policies that could make the problem worse?
The Senate Environmental Resources and Energy Committee is SUPPOSED to make sure our natural energy resources are managed responsibly. INSTEAD members of the committee recently voted to essentially let the coal and gas industry – two industries responsible for a massive amount of our nation's greenhouse gas emissions – to run roughshod over Pennsylvania.
Senate Bill 1195 and Senate Bill 1011 – which the senate committee approved this week -- are bad bills, plain and simple. The first would unnecessarily stall implementation of the Clean Power Plan, which aims to reduce carbon emissions from coal fired power plants. The second is designed to gut regulations that would prevent oil and gas companies from polluting our air and water.  These bills are dangerous because they put the interests of industry ahead of the health and well-being of Pennsylvania families.
Emissions from the coal and gas industries are fouling our air and water and exacerbating the impacts of global warming. We simply can't afford to let short term financial incentives trump important health and environmental protections that can save lives.  Our elected officials should be looking out for the interests of the Commonwealth, not the interests of an industry with deep pockets.  Let them know. Take action now, and urge your elected official to VOTE NO on these bills.
Do you like this post?